How many hippos can you count on this dress?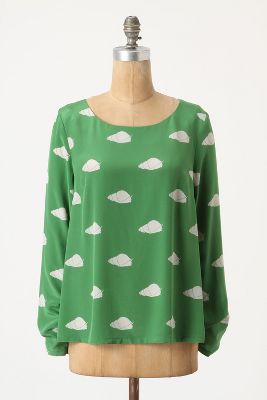 Really, Anthro? Really?
Anthropologie has been putting out all sorts of clothing with animal-print fabric. First it was tiny
elephants
. Then it was
camels
. Not content with large mammals, they delved into an aviary with
flamingos
and
penguins
, then got even weirder with creepy-crawlies like
ants
and
snails
. When did animals on clothing become hip? Why didn't I get a memo? Good thing Shayna and I stopped at an Anthro recently and saw the mini zoo they have there! And good thing I've been saving this hippo-print fabric from IKEA since 2009. And best of all, this week's Sew Weekly theme is "Anything Goes," and if crazy hippos all over a dress isn't anything goes, then I don't know what is.
Also, this is another dress to go in my husband's "sigh, I need to walk next to this lady" category. But hey, Anthro, the ultimate arbiter of hipster cool, says that animals on clothes are okay! Although they probably didn't have in mind kids' bed sheet prints from large Swedish furniture manufacturers.
I was in a hurry to clean up the apartment before we left for the Bay Area, so I told my husband to just quickly snap some pictures while I did the vacuuming. As a result, the pictures aren't the best, but this week, anything goes, right?
Being all 1950s housewife and vacuuming in heels.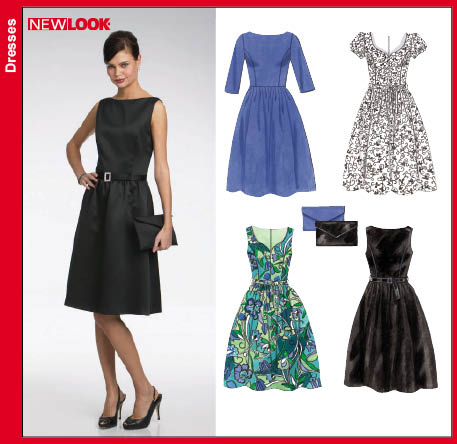 I used my trusty New Look 6723 pattern, a vaguely Breakfast At Tiffany's-esque princess-seamed bodice with a deceptively full looking skirt (but it actually uses less than three yards of 45" fabric). To pay homage to the crazy pleating on the Cirque-A-Line dress, I added pintucks to the bodice. I also added pockets, because a dress with pockets is so much more practical. And lowered the back neckline a little bit.
Look! Pocketses! Also, crazy tulle "belt" to add to the festive look. I will not wear it this way for real.
Lowered back neckline, with a crazy six-legged hippo at the top!
Summary:
Fabric:
100% cotton from the IKEA kids' collection in 2009, aka "Barnsling" by Eva Lundgreen
Notions
: Grosgrain ribbon & swimsuit hook for the waist stay, white 22" zipper, hook and eye
Techniques used:
Pintucks! Which have been on my list of things to try, and it's not that bad. Mine aren't entirely centered or even, but that's because I was just folding and ironing and sewing as I eyeballed it.
There's also the handpicked zipper and grosgrain waist stay, which by now have become so normal in my dress-making that I wouldn't bother bringing them up anymore, except that I wanted to point out that my handpicking has gotten much, much neater. And the grosgrain ribbon is green to go with the red of the dress, making it that much more holiday-appropriate. Even if nobody knows it except me.
My stitches have gotten much tinier and more even.
Hours:
My standard five hours...wasn't a complicated dress, but I had to go slow on the princess seams to make sure that it didn't get wrinkly. Also the pintucks took a while, running back and forth between the sewing machine and the ironing board. The handpicking, though, went a lot faster after having done so much embroidery in the past week.
Will you make this again?
I've used New Look 6723 so many times in the past, I'm pretty sure I'll make it again. Maybe with sleeves next time.
Total cost:
I don't remember how much I paid for the fabric two years ago, but I'm almost positive it was less than $10.
Final thoughts:
I don't know what's more appropriate for the season than a red and white dress (with a secret green ribbon inside), especially since the hippo tails look like little sparkly stars. This dress makes me feel giddy inside to wear it, because the hippos are just so cheerful! Never mind that I'm much, much closer to thirty than twenty. I'll wear hippos for as long as I feel like it, dagnabbit!
Trying to look like a composed, serious, mature adult, even if I am wearing a hippo dress.