Exciting things first:
the winner of the Simplicity culotte dress pattern is Amy W., and the winner of the Butterick Quick 'n Easy partygoer is Elisalex!
Amy W., I've already contacted you regarding your mailing address. Elisalex, I couldn't find an email for you, so please email me your mailing address at cationdesignsblog [at] gmail [dot] com. Thanks for entering, everyone! I had such a nice time reading about my projects you liked and didn't like. Walnut got plenty of pats, and sends his thanks.
It seems that the common denominator in my most liked projects were brightly-colored, made from used sheets, and quirky/different. So of course my most recent project is none of the above. It is neutral colored, made from a purchased knit fabric, and made explicitly to imitate what everyone is wearing these days. Oh Mary, Mary, quite contrary, how your wardrobe does grow!
Yup, this is pretty much the opposite of a six-legged hippo.
My pattern was self-drafted, but
inspired by
pretty much straight up copied from
McCall's 6112
. I liked the boat neck, the slits in the large kimono sleeves, and the elasticized waist; it looks like a really classy, yet comfortable, lounging around dress. It was really simple to draw up a pattern based on the lineart and some basic measurements.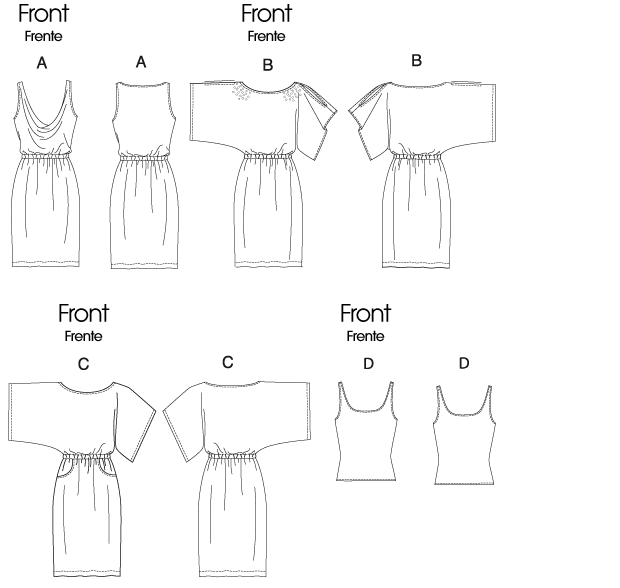 Mine was based on View B, minus the studs.
After stitching, but before cutting out the piece underneath.
To add the crochet piece, I pinned the lace to the front bodice piece, stitched around the edges a couple times, and then trimmed the fabric out from underneath it. For the hems (sleeves, neckline, skirt), I tried out my double needle for the first time! I don't know why I was so scared of it before, but thanks to Katy from
No Big Dill
's
tutorial
, I hemmed everything in no time at all. I love how quickly and easily knit tunic-y dresses come together. Although, I did have a brief moment of panic when I tried it on before hemming and it was hanging all funny, and I could've sworn it was fine when I tried it on two seams ago, but then I discovered that an errant pin had worked its way into the shoulder and was pulling some of the bodice up.
After cutting out the fabric.
Without a person to fill it out. See the elastic waist? Sooo comfy.
My husband took advantage of the beautiful golden light at sunset to snap these pictures. I think it highlights the gold belt and sequins so nicely. Ignore the badly painted garages and the drainage ditch in the background.
Summary:
Fabric:
1.5 yards of cotton knit and a crochet lace applique piece, both originally purchased from the FIDM scholarship store, then stashed while waiting for the right inspiration
Notions:
1/2" elastic for the waist
Hours:
1.5 hours...really fast for me, if you don't count the time spent experimenting with the double needle and drawing up the pattern.
Techniques used:
My very first lace insertion, and double needle hems!
Will you make this again?
Maybe? I don't think I need more than one of this type of dress, although it is extremely comfortable.
Total cost:
$4! The fabric was $2/yd, the lace piece $0.50, and the elastic was already in my stash, but it wasn't very expensive in the first place.
Final thoughts:
The best thing about this dress is that since the front and back are the same pattern piece, it's technically reversible! I can flip it around to have the lace in the back if I want to wear a giant gold dangly necklace, or even switch out the gold belt for one of my other ones with a giant obnoxious flower in front. The elastic waist and loose knit make it super comfortable, and I love the slits in the sleeves. This dress is a winner!